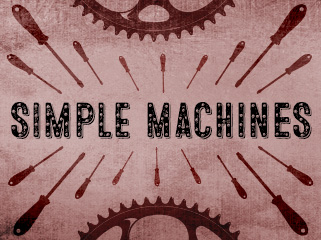 Update 10/11/15: Pub date is Monday, October 15!
Selected Simple Machines reviews and interviews
Booklist 10/9/18
The Rumpus 9/14/18
Fiction Writers Review 10/8/18
New City 10/10/18
Book Q&As with Deborah Kalb 10/4/18
Q and A with Ian Morris, Author of Simple Machines  Goodreads interview with Christine Sneed 10/15/18
We are loving the early pre-pub blurbs coming in for Ian Morris's Simple Machines! Available for pre-order now, the book is due in stores in October.
"What a wondrous, immersive experience this novel by Ian Morris! Lyrical and yet consuming with trouble, danger, and fire. And funny, even experimental, farcical, picaresque—how does he do it all?! You will wonder and worry about Tom, Callie, and Grey for many snowy seasons to come." —Steve Yates, author, The Legend of the Albino Farm
"Bicycles are simple yet beautiful machines, and so is Ian Morris's latest novel, Simple Machines, which rolls on the timeless moving wheels of sunrises and sunsets; of the wilds of Lake Superior and Wisconsin country roadways; of those who stayed behind and those who break-away; of the mythic struggle between Paul Bunyan and the Big Swede, and of the equally mythic struggle between a father and son coming to terms with each other and with the grief of a mother's bewildering abandonment. Written in a graceful prose style touched at times with the lyricism of F. Scott Fitzgerald, this novel has all the ingredients of a great read, and of a classic in the making." —Joseph G. Peterson author of Gunmetal Blue
"Ian Morris's novel, Simple Machines, is a pleasure! Reading it, you'll remember how stupid and young you were back in college, how being in love was synonymous with being confused. Maybe that's still the case. Come listen to the story of Tomas Zimmermann as he navigates the waters between a silent father and the friends and women he should not trust, but somehow does. Hear how Tomas falls and gets back up again." —Charles Rafferty, author of The Smoke of Horses
"Authentic, touching, with the rueful tone of someone who has spent miles in the rain riding over cobblestones." —John Allis, U.S. National Road Champion (1974) and three-time Olympian
"His writing is very good—he reminds me of Richard Russo. . . . I was not at all sure how it was going to end. And after it ended, I was left with questions in my mind.  About how we make choices, and what is really a choice and what is inevitable.  Because of lingering questions, I think it would be a good book group book."—Sydney Kennedy, reader and denizen of multiple books groups
"I just finished the book and loved it.  I went to UW and I felt like I was back there with all the struggles and excitement of being a college freshman."—Teresa Kirschbraun, owner, City Lit Books, Chicago