Peter Robertson's forthcoming Colorblind takes place primarily in New Orleans, but the story kicks off in Homewood, Illinois. In anticipation of the spring launch of Colorblind, Robertson shared his top ten favorite things about the Homewood-Flossmoor area, saying: "In no particular order I've listed my Top Ten Best Things About Homewood-Flossmoor. I've noticed that beer is featured more than once. You may draw your own conclusions."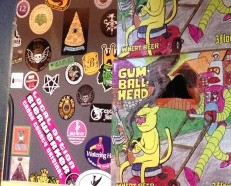 Pizza burgers and IPAs at Lassens.
An early morning bike ride through Izaak Walton Preserve.
Taking a short drive east to fill the tank with cheap gas and the trunk with Zombie Dust at Three Floyds.
Getting past all the train tracks without stopping on the way north to eat Crawfish Etouffee at the Maple Tree Inn.
The early evening train to Millenium Park for a free summer concert.
Pullman Nut Brown Ale served by Elizabeth at Flossmoor Station.
Not one, not two, but three Starbucks nearby.
The good people at GoodSpeed Cycles.
Stuffed pizza at Aurelio's.