The Cold Last Swim
By Junior Burke
"Jimmy Dean, clip-on shades and motorcycle boots, walked late onto the set of the General Electric Theater. Cast and crew were there, as was Ronald Reagan, coproducer and actor-host. Jimmy was in character, although not precisely the one he'd signed on to play. He was deep into James Dean, New York stage actor, big screen Technicolor star . . . "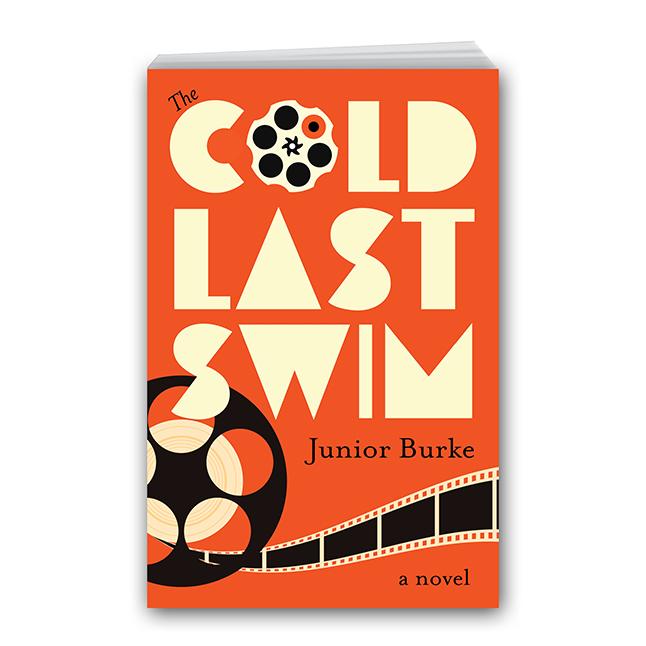 1954 – the young James Dean shoots Ronald Reagan on live TV. Dumped by the studios, Dean doesn't make Giant and isn't killed in a car crash. Instead, he jumps bail, disappears, disastrously impacts lives, and becomes . . . well, that would be telling. The Cold Last Swim is entertaining and surprising all the way to the end.
– Alex Cox, Director-writer of Repo Man and Sid & Nancy, and author of The President and the Provocateur: The Parallel Lives of JFK and Lee Harvey Oswald
In this shrewd reimagining of James Dean's life and death, Burke concocts a mesmerizing "sliding doors" narrative that asks the reader to consider the "what if?" of Dean surviving that infamous car crash. With smartly noirish rhythms and a cast of colorful, quirky characters, we find ourselves tossed between incredulity and eagerness, driven to discover where the "alternate history" of this cultural icon just may take us.
– Lorraine Devon Wilke, award-winning author of The Alchemy of Noise, Hysterical Love, and After the Sucker Punch
Description:
It's December 1954. During a live television performance of the General Electric Theater, a young James Dean brandishes a pistol at fellow actor (and weekly show-host) Ronald Reagan.
Dean goes off script, and what happens next kicks off an alternate history, a "sliding doors" narrative that takes those real events in a slightly different direction.
The Cold Last Swim features two cultural icons: one who would be dead within a year, immortalized as a symbol of cool rebellion; the other, in a little over a quarter century, would become leader of the free world, the standard bearer of traditional and even fundamentalist values. Each reflects fifties America: Reagan is firmly established among the open freeways and unblemished skies of sunny Los Angeles; Jimmy, emerging from the black-and-white shadows of a rainy New York street.
Told largely from Jimmy's viewpoint, but incorporating a diverse cast of period characters, The Cold Last Swim is classical Greek drama: Reagan's Apollo, god of light, warmth, and temperance; Jimmy's Bacchus, license, alienation, and impulse. In this era between the mid-fifties and mid-sixties, we recognize the seeds are being sown for the cultural gulf that divides America today.
Besides The Cold Last Swim, Junior Burke is the author of the novels Something Gorgeous and A Thousand Eyes. He is also a songwriter and recording artist whose 2007 album While You Were Gone was named by New York's Bowery Poetry Club as one of the best releases of that year. Other albums include Spot of Time (2017) and the EP America's a Lonely Town (2019). He lives in rural Colorado.
5 1/2″ x 8 1/2″ * Fiction/Literary; Fiction/Alternate History * May 2020 publication
$16.99 US/$22.99 CAN * ISBN-13: 978-1-948721-10-3 * Original Trade Paperback
Also available in ebook formats
Trade distributor: IPG
Publicity contact: Mary Bisbee-Beek, [email protected]
Librarians, reviewers, booksellers: request download in Edelweiss
View Current Book Tours